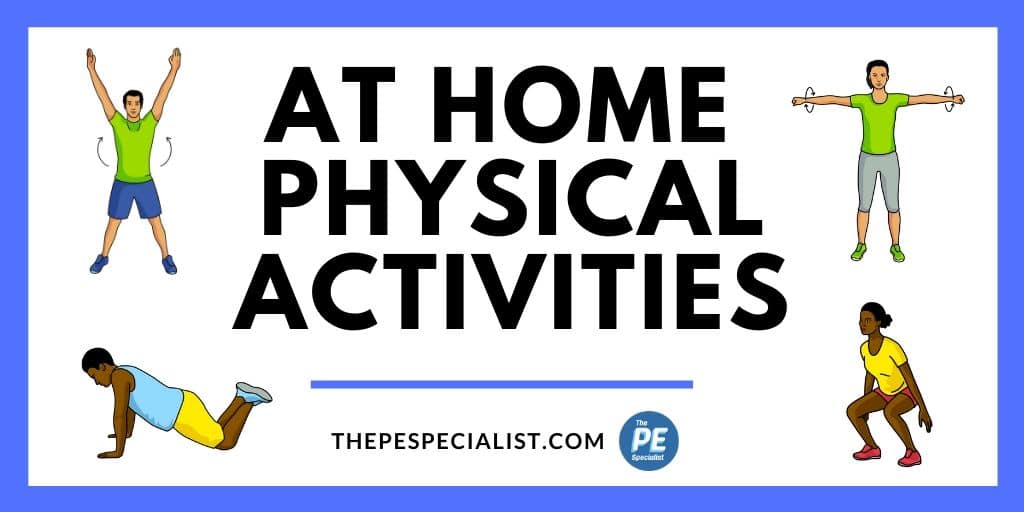 Wow, these are interesting times to be sure! Coronavirus Memes are going wild, the NBA is cancelled and schools are closing all over the world and transitioning to E-Learning while students are stuck at home in quarantine. With kids missing that recess and PE time I wanted to make sure you have some resources to keep your students (and yourself) active and healthy. One of the most important things you can do for you and your families mental health and physical health during this time is make sure you stay active and get at least the CDC recommended 60 minutes of activity each day. Check out the video below or scroll down to the links to see my favorite ideas and resources for getting active at home.
Links and resources mentioned in the video below:
NO EQUIPMENT NEEDED ACTIVITIES
No Internet?
If you don't have internet you can print off or take a screenshot of some of the one page workouts at Darebee.com, they are all free and they have workouts that focus on pretty much every part of the body as well as full body workouts, so pick one that meets your interests and goals (check out the filter option to choose specific parts of the body or aspects of fitness to focus on):
https://darebee.com/workouts.html
Awesome online resources:
Sworkit: Free Customizable Follow Along Kids Workouts
Follow Along Workout Channels on Youtube
Follow Along Dances:
Practice or learn a popular Line Dance
PE ACTIVITIES WITH LIMITED EQUIPMENT
SKILLS REVIEW
If you have any of the equipment below (frisbee, ball, jump rope, balloon etc), you can practice reviewing or working on any of the skills that we've learned in PE class this year.
Inspirational Character and Confidence Building Video Series: